Do you want to know who the most powerful gatekeeper in the music industry is right now? 
No, it's not a Spotify playlist editor. It's not a major label A&R. It's not even a person. It's the TikTok algorithm. 
TikTok is currently the most powerful free promotional tool that musicians have at their disposal. 
Never before in the history of social media platforms have musicians been able to reach as wide of an audience as quickly without a substantial starting audience. 
We're seeing music artists every day go viral on TikTok with very few followers with these short-form videos. That never happened before. That's just how the algorithm works. On Instagram (prior to Reels), only your followers saw your posts. So, even if 100% of your followers saw a post (engagement rate is more like 2%), you could never really break out from merely those who were following you, quickly. Sure, people could share your post with their friends via DMs. But that moved so slowly. 
+[Podcast] How To Go Viral on TikTok 
Yes Myspace had great discovery, but quick virality wasn't a thing. YouTube has been the closest platform where we've seen things go viral, quickly. But it didn't happen often, and had to be truly remarkable. 
Today on TikTok, things go viral all the time – and they don't have to be that spectacular. 
"TikTok is the only thing that really moves the needle when it comes to streaming," – Lisa Kasha, Epic Records
Currently, there are over 1 billion active users on TikTok. Contrast that with Spotify, which has just over 400 million worldwide users. And Apple Music, with just about 80 million subscribers. We are far past the time where you can ignore TikTok. It is no longer the video app of dancing teenagers. 
+How This Band Made $250K Livestreaming from Home
The algorithm is so powerful and targeted that every genre of music, every style of artist, every subgenre of subgenres have a place and a community. 
Last year, a study conducted by MRC Data, revealed that 75% of TikTok users said they discovered new music from the app. 
And the thing is, you don't actually have to even be a creator on TikTok for your music to go viral on TikTok. 
That's what happened to Ricky Montgomery way back in late 2020. 
I interviewed him on the New Music Business podcast and he told me that he was getting texts from his friends saying that songs from his 2016 album were going viral on TikTok. He thought that was sure to be a mistake because A) he wasn't even on TikTok himself with a profile and B) those songs were over 4 years old!
Sure enough, the songs were spreading quickly on the platform, which led to a major label bidding war and Ricky signing a very favorable 50/50 licensing deal with a fat advance with Warner Records. Something unheard of, even just a few years ago.  
+How To Master TikTok for Musicians [MASTER COURSE]
Unlike back in the YouTube heyday of the mid aughts where it was all about cover songs, original music is where it's at now on TikTok. 
Yes covers can work well, like the way the harmony-powered trio Trousdale brings their patented sound to current hits like they did with "Easy on Me" which got over a million views. 
But what really connected for them was their original music. People became fans of them and jumped straight over to Spotify where they've had millions of actual listeners on their original releases and then translated into tour offers. 
TikTok is now more powerful than Spotify playlists
An Ari's Take Academy student, SuperKnova revealed to us what getting included on an official Spotify editorial playlist did for her streams and then what a moderately successful TikTok video did for her. 
+Spotify Says Songwriters Now Make More Streaming Than They Did From CDs
Yes, the editorial playlist provided a boost, but the TikTok post (and subsequent fan videos), skyrocketed the plays. 
This is all on the independent level of course. 
But what about the major label level? How do they do it? 
Well, the hidden secret of how major labels get their artists' songs to go viral comes from two influencer marketing agencies: VRTCL and Flighthouse. 
I had Griffin Haddrill, the CEO of VRTCL on the New Music Business podcast to discuss how they got Glass Animals' Heat Wave to go Viral. 
But after interviewing Austin Georgas who heads up the music department at Flighthouse, I realized he had the gold.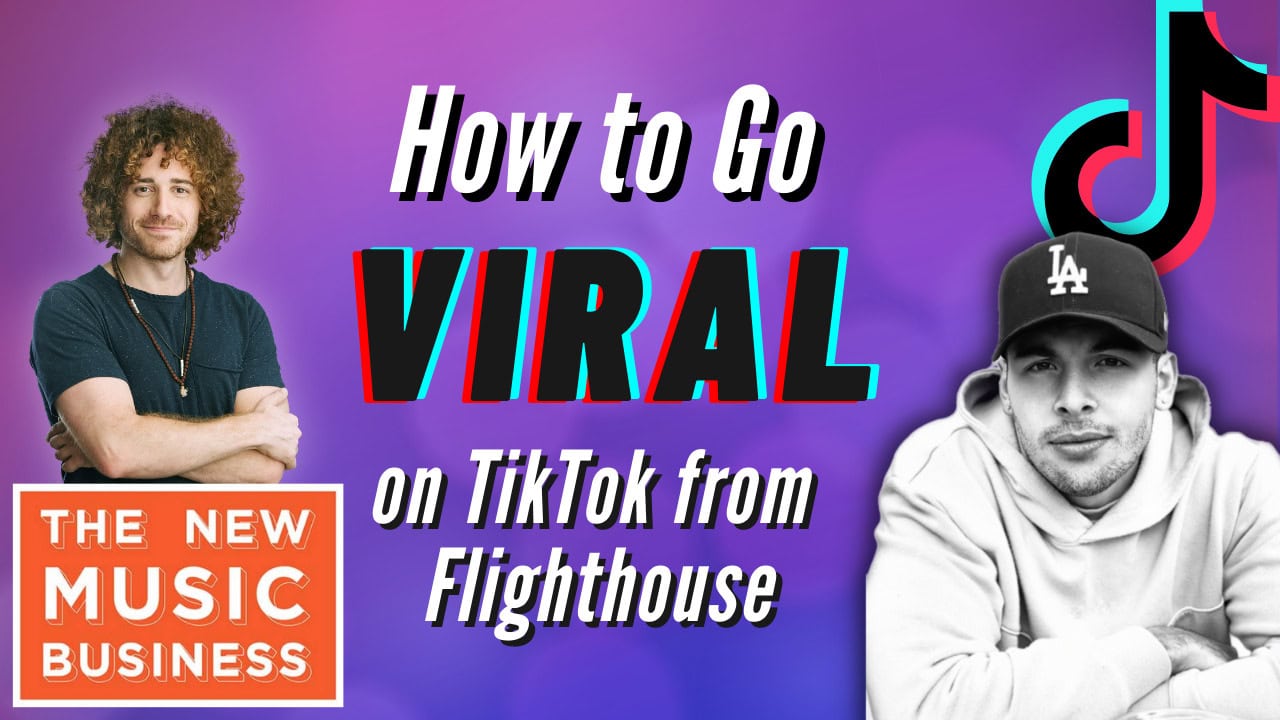 Flighthouse has been responsible for getting songs to go viral like: 
Lil Nas X – "Montero, " 
Cardi B – "Up," 
Doja Cat – "Streets" and "Say So," 
Billie Eilish – "bad guy," 
Kid Laroi and Justin Bieber – "Stay,"  
Sam Smith – "Like I Can."
How they work is, they hire creators on TikTok with varying follower counts (anywhere from just a few thousand followers to a few million) to either start a trend with their client's song, or jump on an established trend. 
+Learn TikTok for Musicians from Flighthouse
What is a TikTok trend?
A TikTok trend is everything from dances, to short skits, to in-app filters, to in-app features (like using the Duet or Stitch), to themed edits and photo montages – all using the same sound. 
Sounds on TikTok is where it's at. Once a creator posts a video, anyone can use the sound from that video to make their own videos. That's how sounds spread so quickly. Whether the "sound" is the original song distributed to TikTok from the artist's distributor/label, or the sound is simply just the raw audio from the creator, anyone can use it in their own videos. 
Of course, one of the earlier trends that helped propel Olivia Rodrigo's "drivers license" to go crazy viral was the Glow Up trend of girls cutting from lip syncing the song dressed down, to falling backwards on a bed dressed up in a gown. With the magic (and simplicity) of TikTok's video editing capabilities, hundreds of thousands of people followed this trend which got the song to take off not only on TikTok but on streaming services as well. 
A more accessible trend that I'm absolutely in-love with is the Open Verse Challenge. 
With this trend, an original music artist strips the vocals from a verse of one of their songs and encourages people to make up their own verse during the musical break. 
This challenge has worked wonders for artists like Saide Jean, Zai1k, Stacey Ryan and Tank and the Bangas. 
After Stacey Ryan posted her open verse challenge, she got tens of thousands of people adding their own verses – sung, rapped, a solo played on their instrument. 
The artist Zai1k's video actually went more viral than the original and got 40 million views alone on his video. This was before the song was actually released. Stacey decided to team up with Zai1k and release the official record as a collaboration. Within a week of the release, the record had over a million streams on Spotify alone. And just a few months later, over 10 million streams.
What about the Hashtag
Hashtags come in and out of vogue on all social media apps. TikTok is no exception. To help get a challenge started or to add to a challenge, you could add a hashtag like #openverse and that can help train the algorithm. But the best course of action is to see what trending videos are doing this week. Because it changes every week. 
I was so blown away by the knowledge bombs that Austin dropped on the New Music Business podcast that I enlisted him and his partner at Flighthouse, Jun Park, to teach the newest Ari's Take Academy (ATA) course: TikTok for Musicians.
If you're interested in learning directly from the guys that all of the major labels hire to get their music to go viral on TikTok, then join us. 
What sets ATA apart from every other university offering or online course is that you get the top experts in the space teaching you. Business Insider listed Austin and Jun as two of the "power players using TikTok to shape music in 2021." The pre-recorded lessons that we put together are just the beginning. Every month you get access to the instructors during live Zoom Q&As, you get invited into a private, members-only Community Group where you can ask questions and get answers in real-time from the other students, your instructors and ATA staff. In this course, Austin and Jun are with you every step of the way. And as things change in the industry, we update the lessons and keep up with you in the Group and in the Q&As. 
Join us at Ari's Take Academy!
Learn more and enroll at: http://aristakeacademy.com