There's a moment that every musician experiences when you get what you think could be the final masters back from the mastering engineer.
You sit in your car with extremely close friends. And you confide in them that this is your new song off of your new album. You spent the better part of a year or two and thousands of dollars on this masterpiece. Writing song after song. Demo after demo. Endless nights in the studio. Take after take after take. A million edits. And a million different mixes. A couple back and forths with the mastering engineer.
And, finally, here we are.
In the car. For the first listen. Every note meticulously set in its right place. Every lyric debated. Rearranged and settled. You sit in complete silence during the active listening session in the car with the best sound system you could find. Just listening to the creation. Not judging. Appreciating. Listening.
Now you build up the confidence, through crushing insecurity, to release this creation to the world with the hopes that someone likes it enough to share the same experience with their friends. In their car.
You hear about a site where you're able to send your music to bloggers and playlisters who will hopefully give you exposure to their followers who will hopefully fall in love with your music and become lifelong fans.
You pay for $50 worth of credits and submit to a few dozen blogs and playlists.
Within minutes you begin to receive rejection after rejection with minimal word responses like "The singing was distinctive and wonderful but we think the song still requires a little bit more new tones and some higher beats." Or "The vocals work well together, but the track's instrumentation is missing a lot of body." Or "The songwriting is definitely very coherent here, really get a sense of a story telling ability which I always admire as a rare skill. Just for my personal tastes, I'm having a bit of a tough time picking out the 'cooler' edge to this." Or "I think the riff was a little bit too sprightly for me."
Actually, these were the responses I got when I submitted two new songs to SubmitHub.
"DonnaCWrites" of Earmilk was speedy fast in her rejections – within 5 minutes of each submission. Is it possible to get a real feel for a song that you spent 20 seconds with? I'd say no. DonnaCWrites would say hell yeah.
And not to single out DonnaC because I imagine nearly every blogger on SubmitHub gives the absolute minimal amount of time for each song. Which is 20 seconds. And they're probably listening through laptop (or gasp, iPhone) speakers.
+CD Baby vs. Tunecore vs. DistroKid vs. Ditto vs. AWAL vs. Symphonic vs. Stem… Who Is the Best Digital Distribution Company For Music
Ok, let's step back. What is SubmitHub?
Created by Jason Grishkoff (founder of the very popular blog IndieShuffle) just over 2 years ago to solve a problem he was having as a blogger. He could not keep up with all the submissions he was receiving from publicists, managers and artists.
On SubmitHub, you can pay bloggers, playlisters, radio programers, Soundclouders and YouTubers to listen to your song for possible inclusion on their (hopefully) high-trafficked site/playlist/channel. Instead of hiring a publicist for thousands, you can spend maybe $100 to get to a ton of these outlets.
"I disliked publicists. I developed this deep down disdain for them." – Jason Grishkoff, founder of SubmitHub, IndieShuffle
I sat down with Jason via Skype – he lives in South Africa – to really understand the service a lot more in depth.
And for context, I also got thoughts from about 15 other musicians who have used the service. They sent me their rejection notices and their overall thoughts on the service.
Jason loves the art of blogging. So much so that he added a special indicator on SubmitHub for his fellow bloggers that take great care with their reviews. If you see a "Really Good Blogger" Star icon, it's been given his stamp of approval.
That being said, does anyone else care about bloggers anymore? Debatable.
I have been able to draw direct lines from a big blog premier (on say, Consequence of Sound, Pigeons and Planes, Stereogum) and inclusion on Spotify's Fresh Finds playlist. But these 3 blogs aren't part of SubmitHub.
Back in the day (er 5-10 years ago), blogs, and music reviews in general, helped music aficionados discover new music to which they would then purchase and add to their personal library. It was their music discovery mechanism. Now, Spotify Playlists are the discovery mechanism. The Discover Weekly, personalized playlist on Spotify, helps each user discover music they don't know, but similar to music they like.
So what's the point of blogging now? Well, some would say for validation. Yes, if you get the stamp of approval from reputable tastemakers (bloggers), you can add some of those quotes to your One Sheet, press page, EPK, whatever. But does it move the needle? Eh.
About 6 years ago, everyone in the industry was OBSESSED with the blog aggregator site Hype Machine. They looked at the charts every day. People were getting signed based on chart performance on Hype Machine. Hype Machine didn't have its own editorial content, it just pulled data from their favorite 400 or so blogs and if enough blogs wrote about the same song, that song would start to chart. If readers hearted the song, it would rise up the charts. And that's how music lovers, tastemakers and industry A&R could find new talent.
I talk about Hype Machine in the past tense, even though it is still very much alive. Except very few industry people still look to it for discovery anymore. Its popularity has plummeted.
"Music blogging is on a downward spiral"- Jason Grishkoff, SubmitHub, IndieShuffle
Of the 400 blogs on Hype Machine, 60 take submissions via SubmitHub.
Jason included a Popular tab on SubmitHub to pick up where Hype Machine left off.
Anyway!
You can submit music on SubmitHub to blogs, Spotify playlists, Soundcloud channels, YouTube channels, Radio stations and record labels. The labels and radio stations are all indie.
HOW TO BEST USE SUBMITHUB
If you are going to submit your music, make sure you have clear intention of what you're looking for.
And make sure you do your research.
Set a release date in the future (most blogs won't review anything already released – or older than a month). Write a great press release and an explanation of the song. And select the outlets you think will respond best to your song.
+How To Write a Press Release and Get Press
Do NOT just submit to the outlets with the most "fans." For one, these numbers are highly suspect (ie fake) and most of the outlets only accept very specific types of music. Luckily, SubmitHub requires you to select a genre before you're able to select outlets to submit to. But even this doesn't narrow it to what you need.
I recommend you select one genre, go down the list, CLICK THROUGH to the outlet's SubmitHub profile AND blog/playlist and spend some time deciding if this is the right outlet for you.
My team did this for my most recent singer/songwriter – indie rock release (out February 9th). We came up with 21 blogs that would be receptive to this song (reviews this kind of music, decent acceptance ratio, etc). We didn't look at Spotify, SoundCloud or YouTube playlisters because blogs need a longer lead time. We will approach Spotify playlisters once the song is released.
Of the 21, 4 were inactive (not currently taking submissions right now), and of the 17, only 11 actually reviewed the song. Of the 11, we got 4 approvals and 7 rejections. That's a submission percentage of 36%. Which is insanely high considering the #1 accepted song this month on SubmitHub only has an acceptance percentage of 35% – however it also got accepted by 28 blogs.
The bloggers have 48 hours to listen, accept or reject (with at least 10 words of why). If they don't take action within 48 hours you get refunded.
+9 Reasons Why Your Band Isn't Getting Press
Most blogs cost 1 credit to submit. Some cost 2 and very few cost 3. The blogs set their own price.
You can purchase credits for about $1 a credit or less if you buy in bulk.
If an outlet accepts your submission you will get a notification email and it will appear in the chat section on SubmitHub. You will work out the details directly with that blogger.
And you can see a nice stream of your rejections and acceptances in the Feedback section within SubmitHub
WHAT SONGS DO BEST?
All music is not treated equally on SubmitHub.
If you are a country pop/rock band, sorry you read this far, this site is not for you. If you're a down the middle pop/rock band, you're also going to have a tough time on SubmitHub. Actually if you are a down the middle anything act you're going to struggle. Other than pop, electronic and hip hop.
SubmitHub HIGHLY favors electronic, hip hop and pop.
But not singer/songwriter pop ala Rachel Platten, Andy Grammer, Ed Sheeran, Taylor Swift, Adele, Sam Smith. We're talking pop like Drake, Camilla Cabello, 21 Savage, Post Malone. The sound of today (and tomorrow).
Most bloggers like discovering the next big thing. The sound that isn't here today, but will be here tomorrow.
Super edgy, outside the box, indie rock does well on SubmitHub too.
Jason told me that he likes finding music that pushes the boundaries. He's not actually into the music of today, but what is going to be hot tomorrow. That's not true of all reviewers on SubmitHub, just his personal taste. But it seems most reviewers want something "fresh." Whatever the fuck that means. Music is extremely subjective after all.
To try this out, I submitted a song from my singer/songwriter rock/pop project and a song from my retro funk project (not out yet).
The funk project (which has been wildly praised by industry A&R and other market research platforms) got totally rejected by the bloggers on SubmitHub because it was 'too retro' – with one person commenting 'maybe try to put a more current twist on this sound from more modern fusing of synths and other electronic elements with some vocal effects at times too.'
Thanks, but no thanks.
My singer/songwriter rock/pop project did pretty well (see above). There just aren't a ton of blogs writing about this kind of music.
WHY ARE OUTLETS USING SUBMITHUB
I asked Jason outright why would blogs use SubmitHub when they had been taking submissions directly for years? His answer? "For the money." These sites are on SubmitHub to get paid. Yes, and to have a more streamlined way of accepting submissions. But they wouldn't be doing it without the financial incentive.
Jason told me some blogs are making around $1,500/month. Mind you, this isn't getting them rich, but giving them enough of an incentive to keep it going on SubmitHub. Most blogs are receiving half the submission cost which works out to be $0.50 – $1. There is a free submission "Standard Credit" option – but very few blogs accept those.
And SubmitHub, as a whole, receives around 9,000 submissions a day. Every day!
WHEN AND HOW TO SUBMIT
Every outlet has different submission lead times. Some say right on the Notes section. If you submit too close to release date, they might pass outright. Similarly, if you submit too far in advance they may reject it and ask you to submit closer to date.
I put March 2018 for my potential release date (2 months out) for one song and one blog wrote "please submit closer to release date." The artist Dree Mon received a response from Pashi at Ambulance Recordings: "Serious? You want me to release a single within 7 days from now? 🙂 No chance, sorry. But all the best. pashi"
So, when should you submit to blogs? I'd say 4-6 weeks before release date. And most blogs won't review anything that is more than a month old.
Spotify playlisters tend to share right away. So you can hold off on submitting to those until the song is already released.
ARE THERE SCAMS ON SUBMITHUB?
I get asked a lot if SubmitHub is legit. Is SubmitHub worth it? Is it a scam? Well, Jason and his partner Dylan review every reviewer before accepting them. They have missed quite a few scammers though.
For instance, someone was impersonating Right Chord Music for awhile before they got kicked out. And there are more Spotify playlists on the site than I can count that are faking their numbers. Or have playlists with a ton of unengaged followers.
There are countless Spotify playlists with tens of thousands of followers who are not engaged with the playlists.
Most of the big playlist networks are using 'download gates' like The Husk, Hive, TuneBoost, Artist Union, ToneDen, Click.DJ, Hypeddit to grow their follower numbers. These started as "Like for download." Or "Give us an email for a download." But now, it's "follow this playlist for _____" Many even utilize a "Follow for Follow" tactic.
So, we're at a point where there are literally tens of thousands of followers on a ton of playlists who NEVER listen to the playlist they follow.
They followed it for some promotion or something and then totally forgot about it.
Or, playlists will simply buy fake followers outright.
You can very easily click the Followers of a profile and see if they look legit or not.
Obviously, Critical Network and BobsMusicBox has fake followers if they look like this.
But you can't actually click to see the followers of each playlist.
To see if the playlist is legit or not, head over to Chartmetric. Type in some date ranges in the Followers section.
If they gained 10,000 followers nearly overnight, that's totally fake. Impossible. And if their Followers are only falling, you know the playlist is not active and has very little engagement.
Or if a profile has tons of followers but virtually none for their playlists, that's also fake.
Another way to tell if the playlist has engaged followers is, if the #1 song on a playlist (that has been on for months) with 13,000 followers has fewer than 1,000 total plays. HUGE red flag. This playlist does not have engaged listeners.
It doesn't matter how many followers a playlist has if the followers aren't engaged.
Unfortunately, Spotify doesn't publicly show how engaged playlists are. This is the kind of research you have to do to decide for yourself.
However, once you get included on a playlist, you can check your SpotifyArtists account to see how many plays that playlist has generated for you. If it's not a lot, then you know that playlist does not have an active listener base.
Think of it like this. Even though a radio station can reach 4M people in Los Angeles, if literally 0 people tune into that radio station, they can't be going around claiming they have a lister base of 4 million. Similarly, just because a playlist has 20,000 followers, if 0 of them are listening on a regular basis, that playlist really has 0 listeners.
But unfortunately Spotify doesn't show this information publicly yet. Hopefully, they will soon.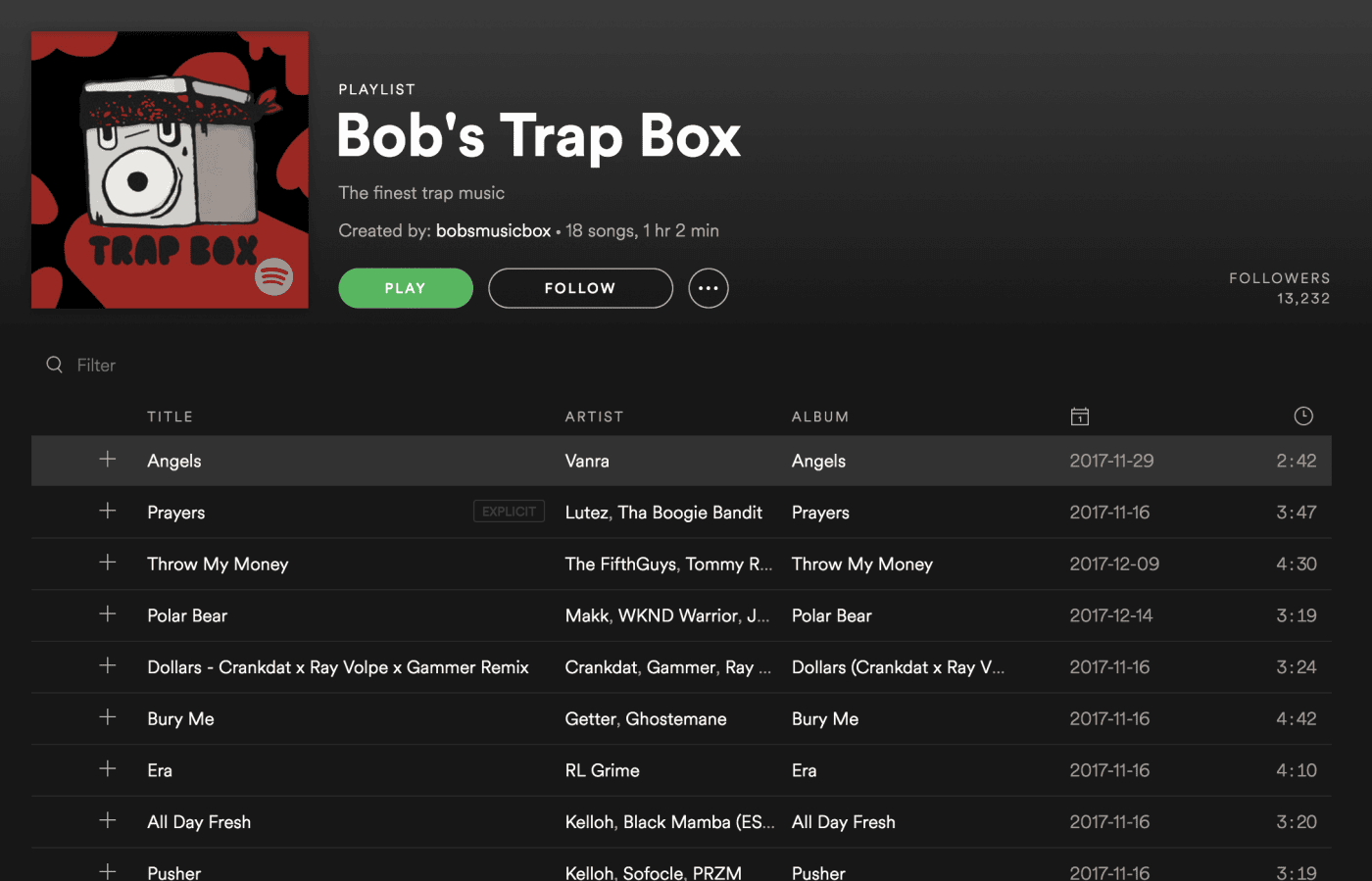 I found all of these profiles and playlists on SubmitHub. And only after pointing them out to Jason and Dylan, did they remove them. But they had been on the service making money. And their "Fans" numbers were enticing with huge follower counts.
This was a complete scam.
And SubmitHub unknowingly was facilitating this scam. I appreciate that they took action to shut these down when I pointed them out, but I'd appreciate it a hellofalot more if these scammers didn't make it onto the service in the first place stealing money from musicians.
Jason has assured me they are doing a better job at vetting here on out.
HOW SUBMITHUB COULD BE BETTER
It was interesting. I started this review about 3 months ago and began by talking to other musicians and Jason. I had a very academic approach and understanding of the service. I understood all sides. It wasn't until I actually submitted MY music that I got had the visceral reaction that most musicians feel when their art is criticized and rejected.
People aren't turning to SubmitHub for feedback. That's what other market research platforms are for. People are turning to SubmitHub for exposure. So, I highly dislike the rejection-with-feedback component.
Jason told me he implemented it to make sure that the reviewers actually listen to the song. There are ways to do this without forcing them to make soul-crushing rejection comments that oftentimes are completely unhelpful.
For a fully mixed and mastered song being released next month, we aren't going to 'add some synth' or 'only have one singer.' It's done. I know my art is done. It's ready. If you don't dig it, fine. No problem. But to have the audacity to tell me what to change about my art. Nah. Fuck you.
Most of the bloggers aren't musicians. They don't know music. They know their tastes. What they like and what they don't.
One of the rejections actually stated "The style of this song in the key of F isn't really grabbing hold of me." The song was in the key of E, by the way.
Actually, I pointed this out to the dude on Twitter and he went completely apeshit on me. You think musicians are sensitive? Start questioning bloggers' taste and ability.
He actually did this to me:
Petty. Dickish. Unnecessary.
I recommend SubmitHub do away with the feedback altogether at the base level. Allow musicians, for 1 credit, to submit for simple acceptance or rejection.
The outlet must still listen for a minimum of 30 seconds, but they do not need to give BS feedback.
If masochistic artists really want the feedback, then charge 5 credits, and require the reviewer to listen for a minimum of 2 minutes and write a minimum of 30 words so they spend some real time with it. And allow bloggers to just turn off the rejection-with-feedback option. It seems to be a burden on everyone.
Then the artists who really want to know WHY these bloggers aren't into their music, can get some kind of understanding.
But, most artists don't care why they rejected it. It's not helpful for the professional artists.
Sure, if you're an artist who is simply not ready – not up to professional standards – you'll probably get that feedback. And that could be a separate section of the site. But for the artists submitting finished products, the feedback is not necessary.
Too many reviewers are using SubmitHub to make money. Not discover talent.
I understand that people's time is valuable. And I'm happy to pay for it. And I appreciate that SubmitHub has given average artists an easy, streamlined way to submit to blogs without hiring a publicist for $2,000- $5,000.
Yes, if you are a hip hop, EDM or electro wave artist of professional caliber, you will probably see some success. But for all other extremely talented artists, getting unhelpful feedback from non-musicians is not helping their music. Not helping their career. Not helping anything. It's only making these artists more insecure. Doubt themselves even more. And is soul-crushing and debilitating. Absolutely no need for it.
the reviews are in!!

my new song "holding out for you" drops tomorrow pic.twitter.com/2Dx4kvOwt3

— Kole (@_schier_) October 19, 2017
If an artist wants to test out some demos or rough mixes of new songs and get feedback on them, that's what market research platforms like AudioKite and CrowdReview are for. Or Fluence. Non-musician bloggers do not have the expertise to be able to tell you your rough demo has potential or not. They don't have those kind of producer ears. They need to hear finished products.
+How To Get Objective Feedback On Your Music (And See If You Suck)
+You Can Now Pay Important People To Listen To Your Song
CLOSING THOUGHTS
You must remember that most bloggers are not musicians. They are music lovers. They know what they like and know what they don't. But they can't tell you why, exactly. They use non-music terms that drive musicians crazy because they don't know how to accurately describe music. They like to break new, hip music. But they don't know music like you and I know music. They know the culture of music. And want to feel like they are contributing to the culture.
One of the most popular blogs on SubmitHub, Earmilk, has one of the lowest acceptance rates (3.7%) and gives the worst feedback (according to many artists I surveyed – including my own opinion). Maybe their acceptance rate is so low because they're so popular and get so many damn submissions and by the sheer volume, they have to reject most music. Or maybe it's because their writers are using the service as a mere money making venture and get the 'real' submissions directly from publicists, managers and labels.
The real percentage I'd be interested in is how many songs the blogs write about on the site come from SubmitHub and how many come from their own connections / discovery methods (publicists, labels, managers, etc).
Speaking of which, you'd think of all the blogs on SubmitHub, IndieShuffle would only take submissions from SubmitHub (considering the founder of IndieShuffle created and runs SubmitHub). But my friend vōx once got a song flat out rejected by IndieShuffle via SubmitHub and then a couple weeks later got a write up on IndieShuffle FOR THE SAME SONG via a publicist who pitched the song directly.
So, there is still something to be said about publicists, labels and managers with connections.
+How To Get Music Press and How To Land a Publicist?
Personally, I feel the business model of SubmitHub is flawed. At least on Fluence, the influencer is required to listen to the entire song (or they don't get paid). On SubmitHub they're only required to listen to 20 seconds. You know what happens in the first 20 seconds of "Stairway to Heaven?" Slow acoustic guitar finger picking with a flute chord. BORING! How do you catch someone within 20 seconds?
If any of the greatest songs of all time had to be put through the SubmitHub wringer I guarantee most of them would get rejected. Hard
Are we being denied the next "Stairway" because a handful of bloggers who listened to the song for 20 seconds and think it needs "more synth?" Quite possibly.
Check out SubmitHub for yourself here.