Vulfpeck | Photo by Michelle Shiers
You'd be hard-pressed to find an act out today who has enjoyed as much success as Vulfpeck – without the assistance of a manager or a label. I've been following these funky trendsetters for the past four years or so and have seen them catapult from an internet meme to a powerhouse live act worthy of the most prestigious stages in the world. This past Sunday at the Greek Theater in LA, Vulfpeck proved why fans continue to show up.
Vulfpeck is one of the most interesting case studies of a DIY band of the modern era.
They don't seem to follow the traditional rules of how to build a band from scratch and have proven to be successful despite very little press or industry recognition (however they have fans in John Mayer and Trey Anastasio). Vulfpeck built their die-hard fanbase from Facebook and YouTube. Famously, every song on their records is recorded, one take, in a room, filmed, and with minimal overdubs. They oftentimes feature legends like James Gadson, Michael Bland, David T. Walker, Blake Mills, Bernard Purdie and Bootsy Collins. Every video has a distinct Vulf-stamp – with superzooms, grain filters, chopped-up thumbnail cover images, and the intro theme music. Not to mention their custom Vulf Compressor (by Goodhertz) rumored to be used on every track of every recording.
At the Greek Theater in Los Angeles this past Sunday, longtime Vulf collaborator, Joey "I write songs about basketball" Dosik opened the show as a duo with Lucky Paul on percussion and an SP-404 sampler (computers be damned!). Dosik played his soulful, classic R&B tunes from his phenomenal debut LP, Inside Voice, trading off between the Wurli and his Gibson 335. He ended his stripped down set with singalongs to his originals (which Vulfpeck recorded and made famous) "Game Winner" and "Running Away."
Lucky Paul and Joey Dosik | Photo by Brandon Weil

After a brief intermission, it was time for the headliners.
Vulfpeck opened their set with the intro to "Tee Time," gameshow-esque walk-on music, if you will, while bandleader Jack Stratton introduced each member as they jogged out and took their positions (Cory Wong did a flying ninja kick as his entrance). Stratton, in his Vulfmon character – donned his patented red and white Adidas soccer getup, motivational speaker microphone and bulky headphones. They opened with "Animal Spirits" sung by Theo Katzman in his playful falsetto. For the first half of the show, the group powered through funky instrumentals like "Cory Wong" featuring their guitarist, you guessed it, Cory Wong, on his Strat (4th position). They all traded off instruments, hilariously jogging around the stage taking their positions just in the nick of time.

Cory Wong | Photo by Michelle Shiers
+11 Ways To Get Hired For (or Fired From) the 2nd Gig as a Freelance Musician

 Dosik took center stage and blasted out sax solos on his alto. Woody Goss, Dosik and Stratton tag teamed the Wurli, B3 Organ and Clav. Stratton and Katzman traded off on the drums. Wong, Stratton and Katzman swapped guitars. The musical chairs component kept the show exciting and fresh. At one point Stratton whispered to Wong "take a lap" and Wong hopped off stage with his wireless Strat and ripped a solo while leading a conga line of fans around the front sections of the pavilion.
Woody Goss, Jack Stratton, Joey Dosik | Photo by Michelle Shiers
But it wasn't until the 7th song that the show really took off.
The band broke into the opening of "1612," a fan favorite, and Stratton introduced "from Flint Michigan.. Antwaun Stanely." Stanley sprinted on stage and instantly started doing jumping jack flys. The crowd erupted and proceeded to sing along to every word. Stanley has an effortless, buttery timbre with the prowess and fluidity reminiscent of the 60s Motown singers from his home state.
Vulfpeck at The Greek in Berkeley, CA the night before | Photo by Joshua Huver see his photos on FB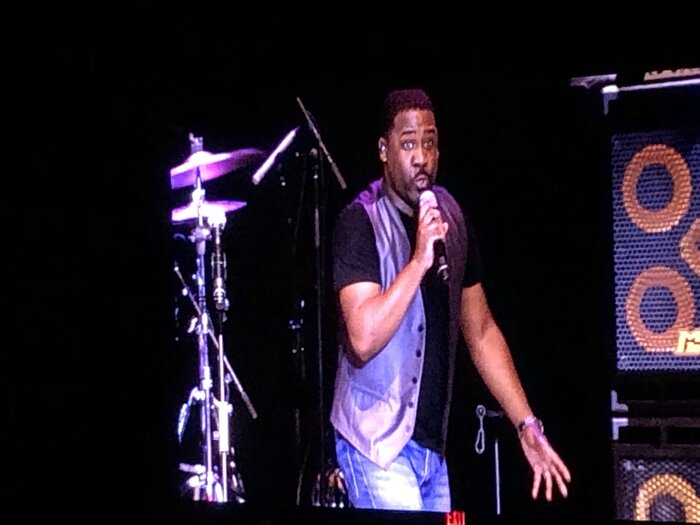 Antwaun Stanley | Photo by Ari Herstand's iPhone

The highlight of the show was when Theo Katzman, from behind the drum kit, celebrated the "dreamers of Los Angeles" in an extended, hilarious impromptu speech accentuated by cymbal crashes, drum fills and Stratton's occasional "yeahs." This moment (which I confirmed after the show – was completely made up on the spot without rehearsal) is part of what makes jam heads love Vulfpeck – spontaneity, improvisation and off-the-wall antics. Vulfpeck may not noodle around the Ionian mode for 10 minutes like Phish or The Dead, but they bring the unconstrained freedom in the live setting that this community expects.
+9 Things Every Musician Needs To Know About the Sound Guy

Theo Katzman | Photo by Michelle Shiers
Then the band cleared the stage for Stratton's traditional mock Ted talk where he promised "Tony Robbins results at TJ Maxx prices." Dead.
Jack Stratton | Photo by Michelle Shiers

The biggest disappointment of the night, though, was the lack of customized visual production.
When you get an opportunity to play the legendary Greek Theater (and upcoming Madison Square Garden this September), it's time to level up. The stage was completely bare except for the backlined instruments. And the only lights used were the Greek's built-in cans. There was no visual production other than occasional static color changes by an LD who didn't seem know their music. Because the Greek Theater holds just over 5,800 people, they have two huge screens on either side of the stage. The only issue was, the camera operators and video producer clearly didn't know the show. Oftentimes, Joe Dart would be ripping a bass solo or Cory Wong would be shredding on his guitar, but the camera was zoomed into Jack's fingers on the Wurli merely comping. By the time the camera team figured out where to focus the attention, the band had moved on.
However, they were quick to the draw when Woody Goss happened to catch a June bug on his left hand, seemingly unbeknownst to his right hand which didn't miss a note flying on the Wurli.

Woody Goss | Photo by Michelle Shiers
Cory Wong | Photo by Michelle Shiers
The sound started off a bit quiet from where I was seated – about halfway back. And the bass was especially low in the mix for the first few songs. It wasn't until Dart started taking a solo did the FOH engineer seem to realize he's worth hearing. Eventually, the sound got dialed in – which makes me think they didn't have a sound check or the FOH engineer didn't really know their music or know how to mix the venue.
Here's hoping they will put more effort into the production for the Madison Square Garden show this September.
+Jamestown Revival Levitate at The Troubadour
Vulfpeck understands its audience.
It's a Venn diagram of music school jazzers, jam heads and reform Jews. Many of their fans (at least those in their 33,000 person Facebook fan club Group, Vulfpack) are aspiring jazz/funk musicians.
But Vulfpeck is not a jam band. They don't really jam, but they check most of the jam head boxes: instrument prowess and good-ol fashioned kitsch.
Cory Wong, Theo Katzman | Photo by Michelle Shiers
The heights of their success can be attributed to Jack Stratton's vision – and multimedia editing capabilities. Sure the music is great. But there are a lot of bands with great music. Stratton has crafted an artist world that's playful, nerdy, humorous and above all, consistent – constantly dropping geeky musical nuances in their videos, memes, interviews and social media posts that few may completely comprehend, but if you do, you're in the club. It's a lighthouse hum, reverberating within the entire Vulf-universe. If you know, you know. If you get it, you get it. If you don't, well, it doesn't matter. Because clearly enough do to enable the band to sell out some of the largest stages in the world.
Most of the members consider Vulfpeck their side project.
Albeit, its more widely-known than any of the member's individual projects. But with just six live dates this year, it does feel like a supergroup, side project. Each member stays busy throughout the year, however – Theo Katzman, Joey Dosik and Cory Wong have their solo projects of course (filling 500 – 1,000 cap rooms all over the world), Joe Dart typically plays in Katzman or Dosik's band – or with any number of other artists lucky enough to have this funk master locking down the rhythm section. While Goss and Stanley participate in their local musical communities of Chicago and Flint respectively. And, of course, Stratton keeps the Vulf wagon rolling along, continually releasing content to keep the internet community engaged.
Cory Wong, Theo Katzman, Jack Stratton, Joe Dart | Photo by Michelle Shiers
I'll be the first to admit, that I didn't think they were doing much right when it came to the business (or their live shows) back in 2015. They sold out the 600-cap Teragram Ballroom for the release of Thrill of the Arts and I chastised them for leaving so much money on the table by not having any merch available. But they have always played the long game. Instead of quick money grabs, they built demand to the point where fans created bootleg Ts on Teespring because there weren't any official shirts available anywhere. Their pre-order campaigns continue to break records (their 2017 campaign earned them over $200,000 from 7,000 fans).
+This Band Lost $3,000 at their Record Release Show in Los Angeles
Over the years they have released limited runs of unique merch items like a Joe Dart bobblehead (true to Dart's real life bobbin head while playing bass), a Joe Dart signature bass (50 available which sold for $2,000 – these sold out). Custom type fonts. And, of course, the aforementioned Vulf Compressor. And their merch was so on point at The Greek (with screen print posters and the iconic red and white Jack Stratton Ts) that they hit an astounding $7.37 dollar-per-head in sales. Do the math. They finally got their merch game together.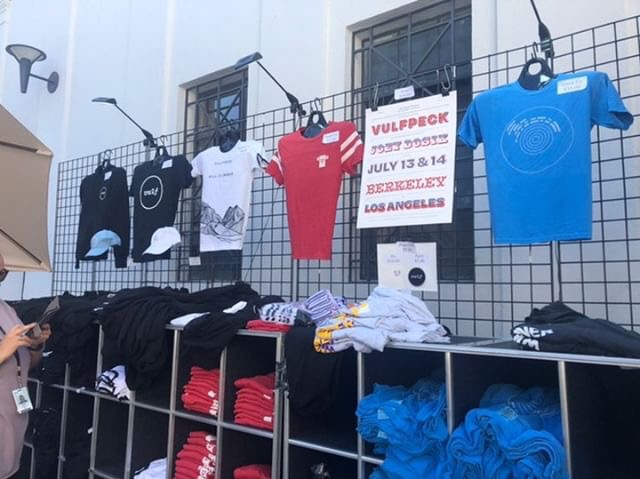 Photo by Allegra Rosenberg
Photo by Brandon Weil
And after multiple extended tours and a handful of festival spots like Bonnaroo and Outside Lands, they have now put together a show worthy of the venues they play.
The after party in the outdoor VIP bar area of the Greek was not necessarily what you'd expect from a band who just sold out this legendary venue. Close friends and family stood around discussing the virtues of a clean, vegan diet (most of Vulfpeck is vegan) while reuniting with friends and collaborators like Scary Pockets' Jack Conte and Ryan Lerman (who wrote Vulf's "Baby I Don't Know"), Rachel Mazer, Rett Madison, Rob Humphreys, Monica Martin (of Phox) and Julian Allen.
+What Robert Mueller's Press Conference Teaches Us About Your Album Release
Backstage, in between guac scoops on my (vegan) Chipotle burrito, I paused and looked around to revel in the moment that was occurring. These music majors from the University of Michigan have created a DIY movement. They have inspired a generation of musicians to embrace their quirks, master their instruments, write killer songs and pave their own way to succeed in the new music business. As Vulfpeck prepares to play Madison Square Garden as the first (?) band to ever headline the venue without a manager or a record label backing the project, it's important to recognize that something truly special has materialized. Vulfpeck is much bigger than the sum of its parts. And it's bigger than the music. Vulfpeck has become a culture, a community, a movement and a rallying cry for every independent musician to buck the industry stalwarts who claim that you need them to succeed.
Vulfpeck may well be the most important band of new music business.

Andrew Leib, Joe Dart, Ari Herstand